How to Export :
Press shift + g to export files 


Setup up system for export
When opening the optima2000 program, you select a cfg file to start the program.
In the folder where Optima2000 is installed, find the cfg file, and add a export line for each field you wish to export.
eg.
yscale[1].export              ;Nm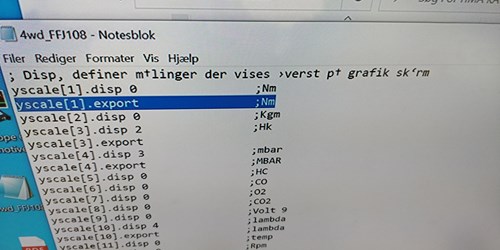 You will need at least Rpm, Power and Torque field. 
(see standard field list below )
---
Compatible versions:
Standard CSV headers
| File column | Header type |
| --- | --- |
| Rpm | Rpm |
| Sek | Time |
| Nm | Nm |
| Hk | Hp |
| Lambda | Lambda |
| Km/t | Speed [Kph] |
| mbar | Map [mBar] |